Creamy Slow Cooker Chicken with Vegetables
This post contains affiliate product links. Clicking on these links may result in my being paid a small commission based on product sales. Regardless of commission, all opinions expressed in this post are my own. For more information, please review our site policies.
Spring has definitely arrived. The sunny skies and relatively higher daytime temperatures might persuade you to begin planning lighter meals, especially given the variety of seasonal produce popping up at the markets. But I think it's a good idea to have some comfort meals in your recipe arsenal that will keep you and your loved ones warm in the chilly evenings that are so typical during this time of year.
One of the best parts about this recipe for
Creamy Slow Cooker Chicken with Vegetables
is that you can set it up to cook all afternoon in your Crock-Pot, leaving you time to work on the items on your to-do list or, better yet, a chance to get outside to enjoy the weather.
I adapted this recipe from one I came across in the Fall 2012/Winter 2013 issue of
Real Simple
. My version includes the following changes:
I used boneless, skinless chicken breasts rather than chicken thighs (the store was out of thighs, if you can believe that!);
I omitted the white wine since I did not have any on hand (we drink more red wine than white wine);
I increased the amount of chicken broth used, as well as the amount of peas (we like peas in our house);
Because the recipe calls for heavy cream, I added a pinch of nutmeg to the sauce (just like my mother taught me).
Rather than prepare store-bought biscuits or follow their suggested recipe for drop biscuits, I just made up a batch of my own
Simple Olive Oil Biscuits
. They were the perfect accompaniment to this dish and perfect for dipping in the creamy sauce.
Slow Cooker, Crock Pot, Chicken, Stew, Soups, Dairy
Slow Cooker, Crock Pot, Chicken, Stew, Soups, Dairy
Creamy Slow Cooker Chicken with Vegetables
This creamy chicken stew with vegetables is the perfect thing to make on a cold day!
Prep time: 10 Min
Cook time: 2 H & 40 M
Total time: 2 H & 50 M
Ingredients
3/4 pounds medium carrots, cut into 1-inch pieces
2 stalks celery, thinly sliced
1 small onion, chopped
1/4 cup all-purpose flour
1 1/2 pounds boneless, skinless, chicken breasts
1/2 teaspoon poultry seasoning
Kosher salt and freshly ground black pepper
1 1/2 cups fat-free, reduced-sodium chicken broth
1 1/2 cups frozen peas
1/2 cup heavy cream
Pinch nutmeg
Instructions
In a 4- to 6-quart slow cooker, toss together the carrots, celery, onion, and flour.
Season both sides of each chicken breast with poultry seasoning and place the chicken on top of the vegetables.
Sprinkle 1 teaspoon salt and 1/4 teaspoon black pepper on top of the chicken. Add the chicken stock.
Cover and cook on high until the chicken is cooked through, about 1.5 hours.
Remove the chicken and allow to cool until you're able to handle the pieces without burning your fingers. While the vegetables continue to cook, dice the chicken into bite-sized pieces. Reserve chicken in a bowl.
After 1 hour, put the chicken back in and add the peas, cream, and nutmeg. Stir to combine. Cover and cook until heated through, 5 to 10 minutes more. Serve hot.
Recommended Products: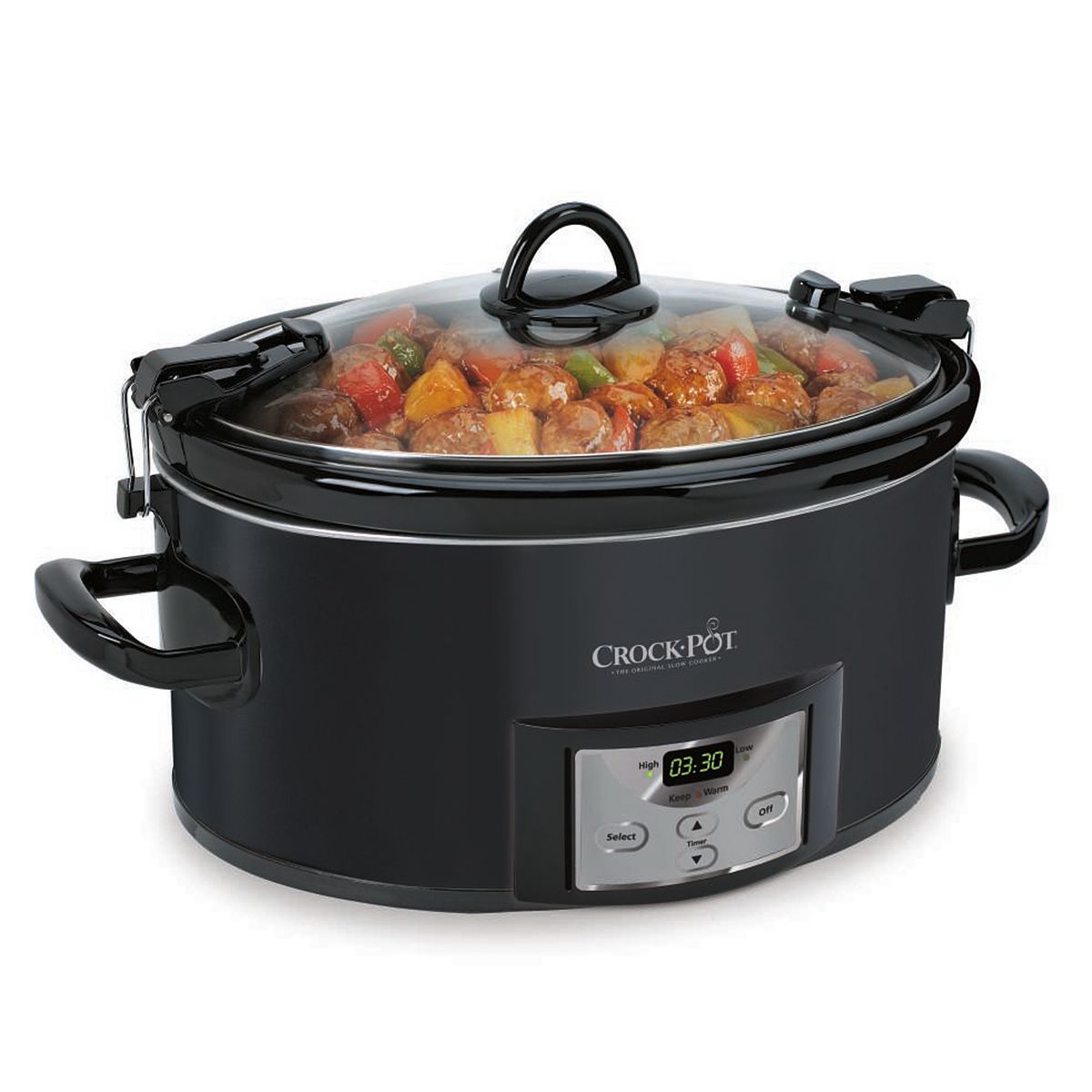 Crock-Pot 7-qt. Countdown Slow Cooker
© Taste As You Go | All Rights Reserved.
Did you make this recipe?
-----
Like this post? Connect with me to find out when I post again. Find me on Facebook, Twitter, Instagram, and Pinterest, or sign up to receive updates via email!