Holiday-Worthy Mashed Potatoes
This post contains affiliate product links. Clicking on the links may result in my being paid a commission. Regardless of commission, all opinions expressed in this post are my own. For more information, please review our site policies.
Well, it happened.
November is here. Some of you may already be planning your menu for your Thanksgiving dinner. Hell... Who am I kidding? Some of you may have even started Christmas shopping! To those of you who fall into one or both of those camps... I salute you.
Me? I have started neither.
Although I don't know where we'll be celebrating Thanksgiving this year, I do know that I won't be cooking the meal. And Christmas shopping? I've been hesitant to start because we've been looking for a new house closer to my job. We'll likely be moving before Christmas... so it makes more sense to wait a little longer to start shopping for gifts.
But I digress.
If I needed to plan a Thanksgiving menu, then I'd plan something like
this one
. But I'd make one significant change -- I'd add my famous mashed potatoes. Since I was planning on making sweet potatoes, I decided to skip the mashed potatoes. An instant regret because their absence was all I could think about as we ate.
My mother would always have both kinds of potatoes on her Thanksgiving table... with plenty of gravy available. And not having the regular mashed potatoes made me miss her even more. Especially since I owe my famous "recipe" to her. I say "recipe" because she hardly ever cooked with measurements. She was one of the first people to tell me to trust my instincts in the kitchen and to "taste as you go".
I've wanted to share my recipe for mashed potatoes for a long time, and it's taken a while for me to get it to a shareable state. Lots of testing went into this to make sure my proportions of ingredients were accurate. After all, I didn't want to do my mother a disservice by screwing up the recipe.

Are you willing to try a new recipe for mashed potatoes this Thanksgiving? Then do me the honor of giving this one a shot.

PS. Keep reading for additional Thanksgiving meal ideas!
Recipes, Holidays, Potatoes, Vegetables, Side Dishes, Vegetarian
Holidays, Potatoes, Vegetables, Side Dishes, Vegetarian
Holiday-Worthy Mashed Potatoes
These creamy mashed potatoes are worthy of any holiday table.
Prep time: 15 Min
Cook time: 15 Min
Total time: 30 Min
Ingredients
5 pounds russet potatoes, scrubbed
1 cup milk
4 tablespoons cold, unsalted butter, cubed
Salt and pepper, to taste
Instructions
Fill a large pot a little more than halfway with water. Set the pot on high and bring the water to a boil.
Meanwhile, peel the potatoes. Once peeled, dice the potatoes into large chunks.
When the water has come to a boil, place the potatoes in the pot. Lower the heat to medium-high and cook the potatoes for 15 minutes or until fork-tender.
When tender, drain the potatoes.
Heat the milk for 1 minute in the microwave. Meanwhile, rice the potatoes into the warm pot, using a potato ricer.
Add the cubes of butter to the potatoes and then pour in the warm milk.
Stir the potatoes to combine the ingredients. Season with salt and pepper, to taste.
Recommended Products: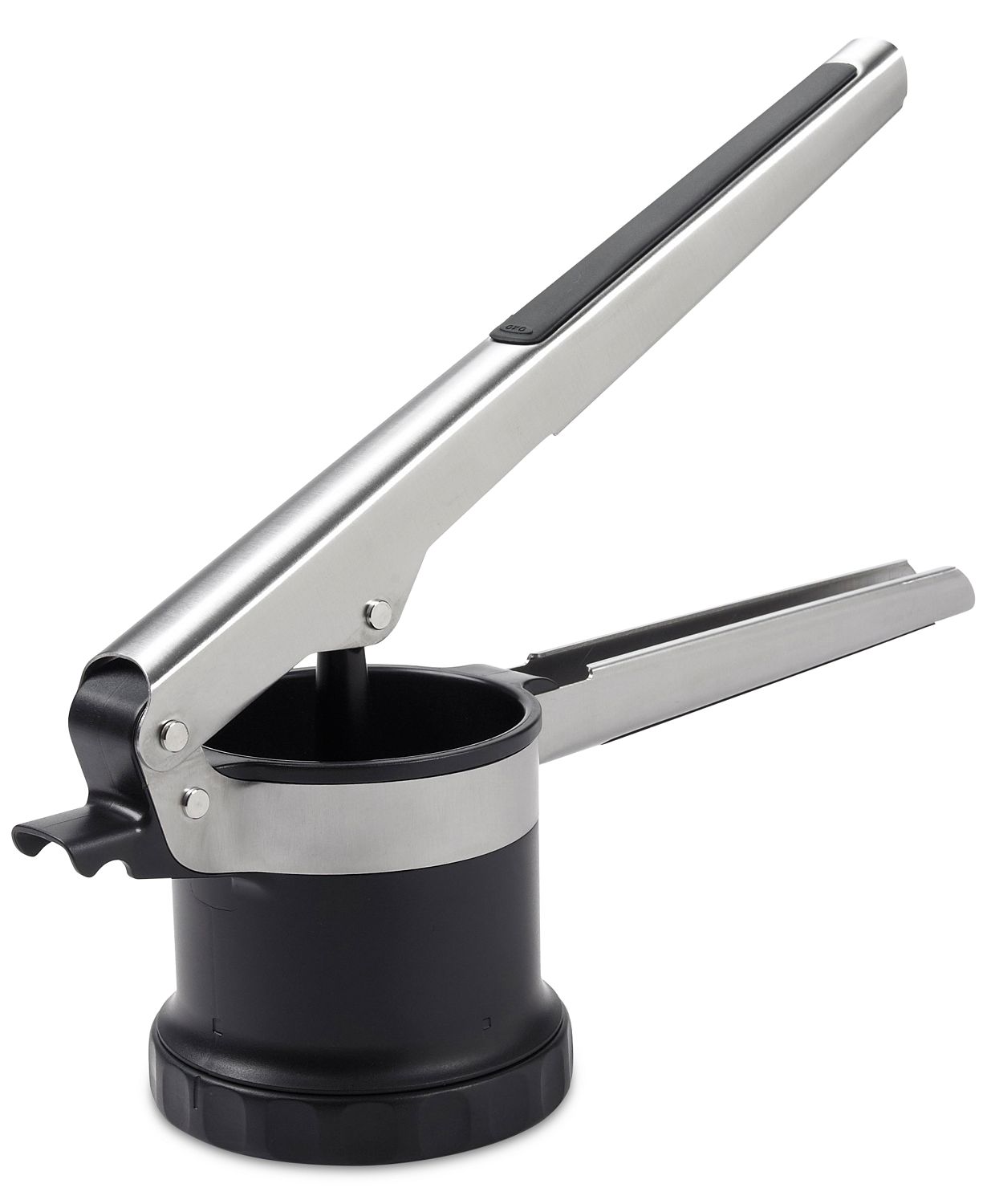 OXO Good Grips Adjustable Potato Ricer
© Taste As You Go | All Rights Reserved.
Did you make this recipe?
Like this post? Connect with me to find out when I post again. Find me on Facebook, Twitter, Instagram, and Pinterest or sign up to receive updates via email!