Slow Cooker Smoky Chicken with Pinto Beans
This hearty chicken and bean stew simmers all day in the slow cooker and gets a ton of flavor from jarred salsa. The recipe for this stew originally appeared on Taste As You Go in 2008. It appears here with slight modifications and updated photos.
This post contains affiliate product links. Clicking on these links may result in my being paid a small commission based on product sales. Regardless of commission, all opinions expressed in this post are my own. For more information, please review our site policies.
Believe it or not, this recipe was one of the very first recipes I ever shared on Taste As You Go. In my first few months of blogging, I relied quite a bit on stock photos. I knew my posts needed photos to break up the text and add interest, but I had no way of creating photos for myself. I didn't yet own a digital camera.
So, already,
this updated version
is ten times better than the original.
The more I made this dish, the more comfortable I got with it. Over time, I started tweaking ingredients to better suit my personal tastes... and this version here represents my favorite iteration of the recipe.
I upped the amount of chicken to even out the ratio between chicken and pinto beans. I also used a larger jar of salsa to add a bit more liquid to the dish. And, because I loved what it did to the overall flavor of the dish, I continued to use ground coffee. For me, the addition of the coffee helped tamp down the smokiness of the chipotle peppers in adobo sauce.
This Slow Cooker Chicken and Pinto Beans is great served all by itself as a hearty stew. But it's also delicious served over rice and/or with tortillas on the side.
I hope you give it a try! And since this blog is all about encouraging you to "taste as you go", go ahead an experiment. Make adjustments to suit your tastes. If you do, let me know how you changed things up in the comments... I might just want to try making it your way someday!
Recipes, Slow Cooker, Chicken, Beans and Legumes, Main Dishes, Poultry
Recipes, Slow Cooker, Chicken Recipes
Slow Cooker Smoky Chicken with Pinto Beans
This hearty chicken and bean stew simmers all day in the slow cooker and gets a ton of flavor from... jarred salsa.
Prep time: 15 Min
Cook time: 8 Hour
Total time: 8 H & 15 M
Ingredients
1 cup dried pinto beans, rinsed
ounce jar medium salsa
2 tablespoons chopped canned chipotle peppers in adobo sauce
1 tablespoon adobo sauce
2 tablespoons all-purpose flour
1 cup water
2 1/2 pounds boneless, skinless chicken thighs
Salt and pepper, to taste
1/2 cup instant coffee
1 medium red onion, chopped
1 red bell pepper, chopped (ribs and seeds removed)
1/4 cup fresh cilantro, chopped
Instructions
Place beans in a large bowl; cover with water by several inches. Refrigerate, covered, overnight; drain.
In a 5- to 6-quart slow cooker, stir together beans, salsa, peppers, adobo sauce, flour, and water.
Season chicken on both sides with salt, pepper, and coffee. Place chicken in the slow cooker, making sure to cover it as much as possible with the salsa and bean mixture.
Scatter the onion and bell pepper on top of the chicken.
Cover and cook on low heat for 8 hours.
Remove chicken from the slow cooker. Shred into large pieces and return to the slow cooker. Stir in chopped cilantro and serve!
Notes:
Note 1: Prep time does not include overnight time to soak beans. Note 2: When cooking with a slow cooker, it is best not to open the lid if the recipe doesn't call for it, no matter how tempted you are to stir the ingredients (or how tempted you are to get a better whiff of the food while it's cooking). Every time you open the lid, you add an extra 30 minutes to your cooking time!
Recommended Products: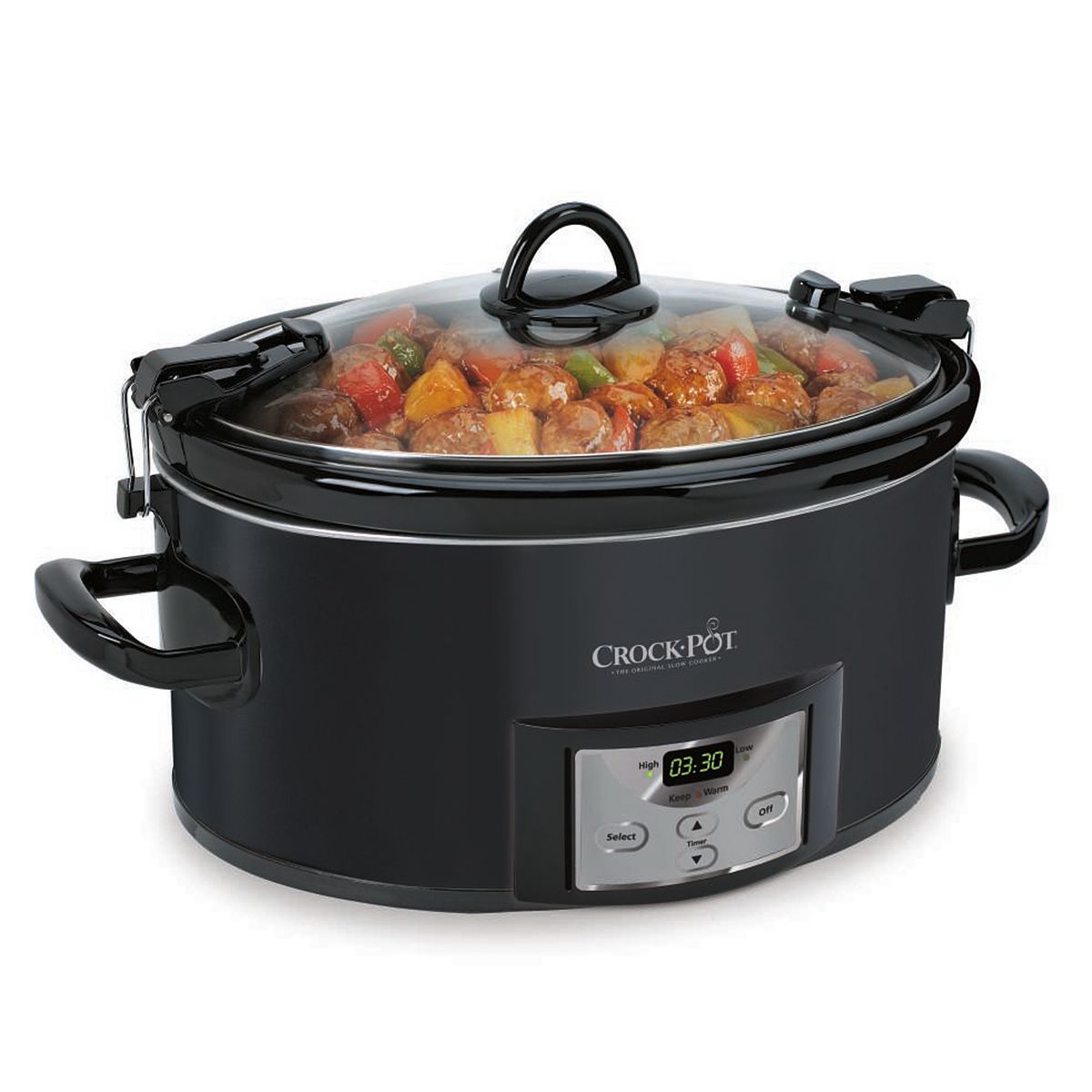 Crock-Pot 7-qt. Countdown Slow Cooker
© Taste As You Go | All Rights Reserved.
Did you make this recipe?
-----
One year ago
:
Everyday Reminders to Say "I Love You"
Two years ago
:
Menu Plan: February 19 - February 25
Three years ago
:
Sausage-Stuffed Acorn Squash
Four years ago
:
The Burgery Company - Emmaus, PA
Five years ago
:
Three Bean Chili with Homemade Chili Seasoning
Six years ago
:
A Taste of Tuscany: Osteria del Borgo - Montepulciano, Italy
Seven years ago
:
Postino Arcadia - Phoenix, AZ
Eight years ago
:
Simple Olive Oil Drop Biscuits
Nine years ago
:
How They Found My Blog: Week 12
Ten years ago
:
Lunch at Jackson Hole: Bring a Friend
Like this post? Connect with me to find out when I post again. Find me on Facebook, Twitter, Instagram, and Pinterest, or sign up to receive updates via email!